---
Holidays, Annulments and Seahawks: Our Week in Wisdom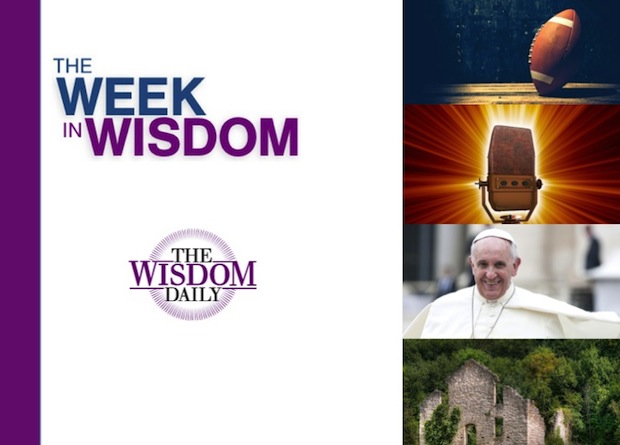 On The Wisdom Daily this week (Sept. 7 -11), we explored a common quandry for clergy, an NFL coach putting a priority on holistic wellness, the Pope's merciful approach to marital mistakes, three core ideas bringing people together on Rosh Hashanah, the future of traditional religions… and more. Did you grow wiser this week? We hope The Wisdom Daily played a part.
When Should Clergy Weigh In on Politics? – Michael Bernstein
Stay away from politics, Rabbi. Many of my colleagues receive – and some give – this advice. There's a lot of truth to it, even if only from a practical perspective. In a recent and widely touted survey, politicians scored lower than any other profession… READ MORE
A Pope, a Rabbi, Mercy and Rosh Hashanah – Brad Hirschfield
I know?my headline sounds like an old Borscht Belt routine. My post today is anything but. It's simply a brief expression of gratitude to a great spiritual teacher for a new policy that not only speeds and eases the annulment process… READ MORE
A New, Holistic Path to Redemption in the NFL – Elan Babchuck
How does a football team whose defense is known as the Legion of Boom, and whose running back goes into "beast mode," come back from one of the most gut-wrenching losses in Super Bowl history? Yoga classes, of course… READ MORE
Unlocking Hearts and Minds on Rosh Hashanah – Brad Hirschfield
More people will be in synagogues in the coming days that at any other point in the year. And because of demographic realities, an increasing number of them won't even be Jewish. They'll all be there, but what will they be hearing?… READ MORE
A Generation Removed from God – Irwin Kula
Our old gods are dying, and our new ones are yet to be born, so we best be careful asking people about what they believe about God. It isn't simply that the familiar, conventional (theistic, old-man-in-the-sky, all-powerful, all-knowing… READ MORE?
It's a Season of Renewal. So Why Do I Feel Anxious? – Matt Gewirtz
This season is supposed to be one of renewal. The transition from summer to fall brings a cooler breeze and the promise of brand new page in the books of our lives. Our kids walk into their classrooms with the excitement of being a grade older… READ MORE
Supreme Smarts, Dream Cities and More: Must-Read Links – TWD
Welcome to a new roundup of enlightening interviews and essays gathered from a wide range of sources, on topics such as: staying open-minded on the Supreme Court, urban spaces found only in cyberspace, compassion as a stress-reliever… READ MORE
Recommended Posts
March 24, 2023
March 21, 2023
March 16, 2023