The season five premiere of Duck Dynasty aired this past week and posted its first season-to-season drop in ratings: among adults 18-49, the show was down 33%. The two back-to-back episodes marked the first appearance of the Robertson family since Phil the patriarch's less than politically correct, unfiltered, unconsciously hateful comments about gay men and blacks in GQ.? While still huge numbers for cable, the drop is "newsworthy".
But I'm interested in the visceral reaction to this negative statistic.? Are you happy? Indifferent? Perplexed?
Here are a number of possibilities explaining the ratings drop:
1.?? ?The controversy took a toll on the show's appeal especially among a younger cohort who, whatever their politics or religious beliefs, are culturally increasingly tolerant if not liberal and were very uncomfortable with Phil's comments. Call this the karmic payback/justice explanation.
2.?? ?Duck Dynasty has obviously always been a scripted show but now the novelty of the characters has peaked, the premise and the jokes have become less funny and so the appeal is wearing off as happens with all TV shows after a few seasons.? Call this the rational critic's explanation.
3.?? ?In the age of DVR's and other methods, many choose to watch programs when it is convenient for them NOT by what the networks dictate.? Call this the tech answer.
4.?? ?Ultimately, people who are on reality shows really aren't all that interesting. It just usually takes people who watch reality shows some time to figure that out, get bored and move on. Call this argument "quality wins in the end" even amongst the Cracker Barrel crowd.
5.?? ?Duck Dynasty has been over-commercialized with products including bobble-heads, aprons, baby clothes, devotionals, coffee mugs, Cajun marinade, cook books, sunglasses, koozies, life-sized pillow-heads of one of the bearded clan that spouts out swamp wisdom when touched, books, music, etc. Call this the market saturation explanation.
6.?? ?It was aired too late in the evening: The scheduling explanation.
7.?? ?Actually, the season five opener was 'around' their average of nine million viewers. Some shows score above and some below – that's how you get an average.? This was only a little below their average mainly because it was up against opening night of American Idol. Here is the "be careful about statistics" explanation.
8.?? ?You can only dupe people for so long. Duck Dynasty traded on authenticity and genuineness but in fact was always just a made for TV illusion. Look at this photo of the family before the creation of the show. Yuppies golfing!? Let's call this the truth shall set you free explanation.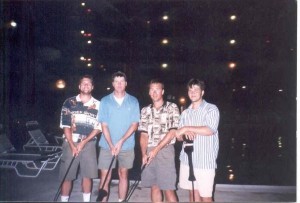 Which answer do you think is correct? Which do you hope is correct?? With which explanations do you reflexively resonate?? It's interesting what our reactions to these sorts of cultural phenomena say about our own attitudes, biases, and world-views.? Me? I resonate with 1 & 8 and have a hope for 4.

Irwin Kula is the co-founder and co-executive editor of The Wisdom Daily. A rabbi, Irwin's writing has been featured in The Huffington Post and the Washington Post. He is the author of Yearnings: Embracing the Sacred Messiness of Life and a co-editor of The Book of Jewish Sacred Practices. Irwin has appeared on NBC's The Today Show, The Oprah Winfrey Show, The O'Reilly Factor and PBS Frontline. Irwin also serves as President Emeritus of Clal, The National Jewish Center for Learning and Leadership, a leadership training institute, think tank and resource center in New York City.