I am honored that I'll be appearing at the United Nations on Wednesday, March 25, as a guest panelist for the second annual Power of Collaboration Global Summit. The event's focus will be "Women, Technology and Social Innovation Creating the Future of Inclusive, Sustainable Economies." For my part, I'll be speaking on the "Women and Social Innovation: Disrupting Global Entrepreneurship" panel.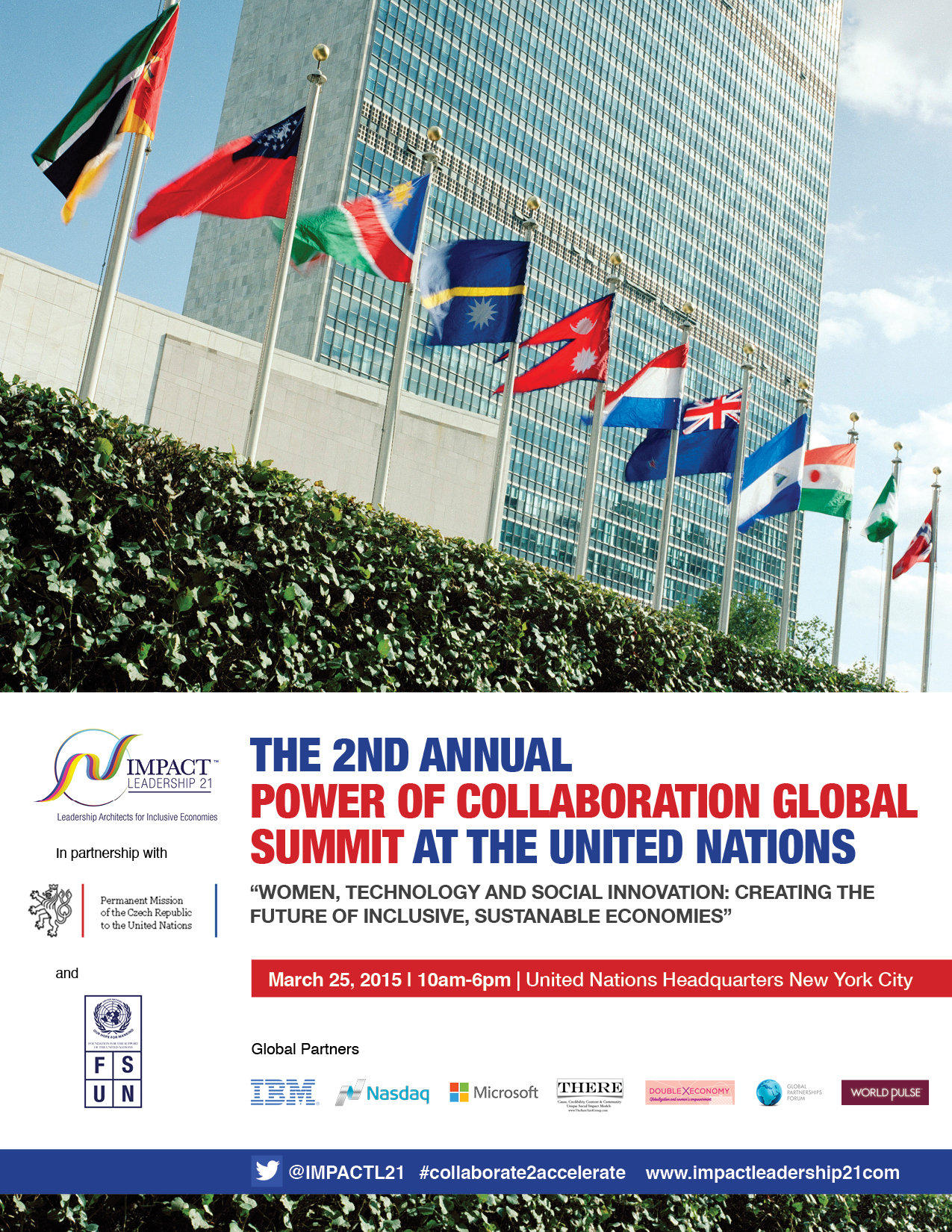 Women are disrupting global entrepreneurship by doing well and doing good. Yet only 6% of venture capital goes to woman-founded companies, there are few female partners in VC firms, only 7% of the CEO's of major companies are women and there are similar statistics regarding women on corporate boards.
Given that this is no longer a legal question – discrimination in the workplace against women is illegal – what is the root of this problem? How can men and women lead together to shift how we think about work and the world? How is this part of a broader challenge of creating a more conscious form of capitalism?
We will tackle these questions and more in our discussion. Our panel moderator is Julie Anixter, Chief Learning Officer at Relevents and Co-Founder of Innovation Excellence. Other panelists include Craig Hatkoff, Co-Founder, Tribeca Disruptive Innovation Awards (TDIA) & Tribeca Film Festival; Denise Evans, VP Market Development, IBM ; Jeanne Sullivan, StarVest Partners, ASTIA, Harvard Kennedy School, ePROVSTUDIO; Jeff Hoffman, Global Entrepreneur & Speaker, GEW, GIST, ColorJar, Priceline; Brandon Frank, Intellectual Property and International Trade Counsel; and Dr. Twyla Garrett, CEO and Founder, Investment Management Enterprise.
For more details, please visit Impact Leadership 21.

Irwin Kula is the co-founder and co-executive editor of The Wisdom Daily. A rabbi, Irwin's writing has been featured in The Huffington Post and the Washington Post. He is the author of Yearnings: Embracing the Sacred Messiness of Life and a co-editor of The Book of Jewish Sacred Practices. Irwin has appeared on NBC's The Today Show, The Oprah Winfrey Show, The O'Reilly Factor and PBS Frontline. Irwin also serves as President Emeritus of Clal, The National Jewish Center for Learning and Leadership, a leadership training institute, think tank and resource center in New York City.