Most Searched News Story in 2013?? Was it the ongoing debate about the Affordable Care Act / Obamacare? Nope. That was #2. It wasn't the Boston Marathon terrorist attack either, which came in at #3. And in case you thought we were busy searching for happier stories, and guessed it was the newest royal baby, you may be surprised to learn that story was in 4th place.
According to Yahoo, the most searched for news story of 2013 was the Jodi Arias story. I guess that from the bible until today, we humans never tire of stories filled with family violence and sexual intrigue. Maybe we just love the fact that it's not happening to us, and maybe it's because we all find it easier to appreciate what we have and where we are in our lives when we confront how much worse it can be, and actually is for other people… –Brad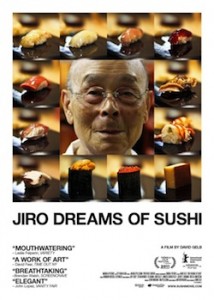 Jiro Dreams of Sushi Jiro Dreams of Sushi is the most unexpected must see film I have seen in years! It is the story of 85-year-old Jiro Ono, considered by many to be the world's greatest sushi chef. His 10-seat, sushi-only restaurant located in a Tokyo subway station is the first restaurant of its kind to be awarded a three-star Michelin Guide rating. But this beautiful film is ultimately an inspiring passionate meditation on work, a father-son relationship, creativity, aesthetics, and the striving for excellence and perfection for its own sake. Here are my two favorite pieces of wisdom from the film.
1."Once you decide on your occupation… you must immerse yourself in your work. You have to fall in love with your work. Never complain about your job. You must dedicate your life to mastering your skill. That's the secret of success… and is the key to being regarded honorably."? 2."We fail to realize that mastery is not about perfection. It's about a process, a journey. The master is the one who stays on the path day after day, year after year. The master is the one who is willing to try, and fail, and try again, for as long as he or she lives."? So what does success mean to you? Is there anything you are trying to master? What does it require to live honorably? –Irwin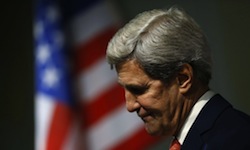 Middle East Peace Secretary of State John Kerry heads to Israel and the Palestinian Territories later this week. Can it really make a difference? I don't know, and as this article by Times of Israel founder David Horovitz points out, the challenges are not only huge, but may be growing. On the other hand, without active US involvement, it's hard to see how anything positive is likely to occur. Stay tuned for details. –Brad
(photo credit:AP/Jason Reed)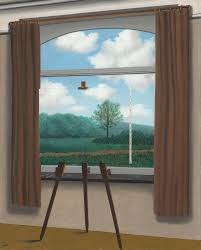 What Do We See?? I went to see the Rene Magritte (1898-1967) exhibit at MOMA titled: The Mystery of the Ordinary. Of course, the irony is there are few artists whose images are on more t-shirts and posters than Magritte! How many of these do you recognize?? Isn't it amazing how something shocking and even outrageous in one generation can become a popular product in another!? Magritte meant to shake us up and compel us to question our perceptions of ordinary things like eggs, apples, pitchers and pipes ? to make "everyday objects shriek aloud". One painting stopped me in my tracks:? "The Human Condition" ? a painting of country landscape framed in a window looking out on an "identical" country landscape. We, looking at the painting, are both inside the room within the painting and outside in the real landscape. The challenging truth is we always stand at a remove from anything we see.? We perceive our surroundings through filters of language, culture, and biography. And if this seems abstract, think about how these days we often look at the world through our smart phone cameras and listen to people through our ideologies. We see, we listen, but always through a frame. So how much of reality do we actually see?? What filters do we use to keep things in their boxes and out of our awareness? What do we miss about the landscapes around us, the people who interact with us, and our own innerscapes? –Irwin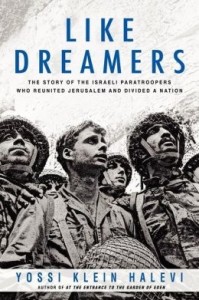 Like Dreamers is a Must Read Like Dreamers: The Story of the Paratroopers Who Reunited Jerusalem and Divided a Nation is one of the wisest books I have read in a long time.? Wise because it combines sharp analysis of Israel's ongoing wresting with what the country is all about, and deep compassion for all of the players in the ongoing conflict in the region, regardless of their differences of opinion ? certainly on the Israeli side anyway, including those who are ardently anti-Zionist.
If you care about Israel, Palestine, or both, or simply want to better understand an issue which continues to shape US political policy, you must read this book.? The book privileges understanding over correctness or agreement at virtually every turn ? a brave and rare posture from almost anyone with an opinion about what is going on in today's Middle East.? It also brings readers into worlds which most will otherwise never understand, including the messianic religious Zionism to which I devoted my own life for many years. So yes, I also love this book because helped remind me about pieces of myself, but it will do the same for others as well, regardless of their background or politics. –Brad

Brad Hirschfield is the co-founder and co-executive editor of The Wisdom Daily. A rabbi, Brad has been featured on ABC's Nightline UpClose, PBS's Frontline, Fox News and National Public Radio. He wrote a long-standing column, "For God's Sake," for the Washington Post, and has also written for The Huffington Post and Beliefnet.com. He authored the book, You Don?t Have To Be Wrong For Me To Be Right: Finding Faith Without Fanaticism. Brad also serves as President of Clal, The National Jewish Center for Learning and Leadership, a leadership training institute, think tank and resource center in New York City.