---
Opening Day and My Father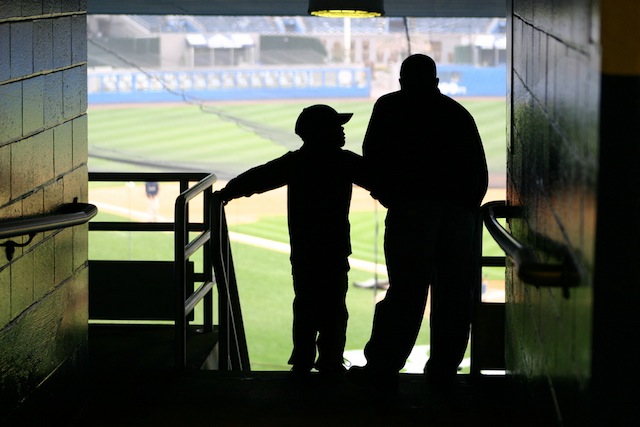 Baseball season opens this week. Yes, hope springs eternal. We made it through winter even if winter wants to hang on a few more days. It is the start of new careers for players and the opportunity for new beginnings for players who had a bad season last year. What makes baseball so much fun is you never know how the arduous 162 game regular-season and three-tier playoff series system (that can extend the season by up to 19 more games for teams that reach the World Series) will play out. Underdogs will arise, favorites will disappoint, expectations will be unfulfilled and the unexpected will surprise.
Yes, baseball is an allegorical play about life, with its day-to-day existence full of ups and downs of which we try to make the most of our opportunities. To paraphrase the great Tommy Lasorda: No matter how good we are, we're going to lose one-third of our games. No matter how bad we are we're going to win one-third of your games and so it's the other third that makes all the difference.
But I love opening day because I remember my father. He was quiet and unassuming. A cantor – the person who leads the prayers in the synagogue – he created beauty through melody that inspired and evoked the best in anyone who heard him whether they "believed" or not. My father came here as a nine year-old from Poland in 1938 escaping the Nazis. He fell in love with baseball and it helped him acculturate. He was even scouted as a pitching prospect in high school, which made him pretty special in our neighborhood growing up.
Each spring training he would buy Street and Smith's Baseball Preview Magazine, review all the teams and make his predictions on a sheet of paper with a sharpened pencil. And amazingly he was right so often. And then the season would start. How sweet those two or three games a year my father would take me to. He would tell me in the morning that we were going to the game that evening and the whole day was filled with anticipation. I don't know what was more important – the drives back and forth in which I sat in the front seat with my father talking about baseball and life, or being at the game together rooting for the home team. In the last years of his life, each spring training I would buy him that magazine and give it to him. He would smile widely and we would go through the magazine and talk out the upcoming season. I miss my father. But, he is right here as we Play Ball! Baseball, it's more than a game.
Recommended Posts
September 20, 2022
September 20, 2022
August 31, 2022