---
An Inspiring Voice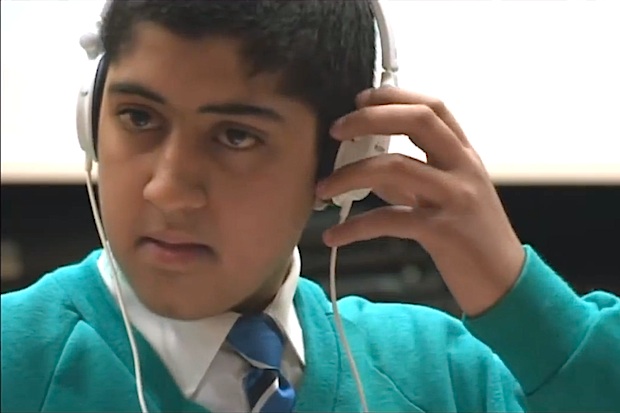 March 27, 2015
No Comments
The human spirit is remarkable. Take Musharf "Mushy" Asghar, a high school student who gained fame on the British reality TV series Educating Yorkshire. With a serious speech obstacle to overcome, Mushy exhibits a powerful combination of courage and will.
Add a teacher, Matthew Burton, who simply won't give up on his student, who is open to sources outside the typical curriculum for inspiration (in this case, the Academy Award-winning film The King's Speech), and who is committed to educating in the purest form – i.e., raising up and bringing forth the whole human being.
Mix in another important factor: a brilliant school where excellence means much more than a race to the top, but a journey of mind and heart measured as much by quality of character as test scores. What you get is sheer Inspiration – what "no child left behind" really means.
Notice the faces of Mushy, his supportive friends, his teachers in the auditorium and especially the tough boys in the front row. Grit + Grace + Gratitude equals Transformation.
Update: Musharaf is studying at college thanks in no small part to Mr. Burton and all the faculty at Thornhill. He's hopeful that he can be a role model for young people with speech issues, advising: "Even if you do have a stutter don't be afraid."
Irwin Kula is the co-founder and co-executive editor of The Wisdom Daily. A rabbi, Irwin's writing has been featured in The Huffington Post and the Washington Post. He is the author of Yearnings: Embracing the Sacred Messiness of Life and a co-editor of The Book of Jewish Sacred Practices. Irwin has appeared on NBC's The Today Show, The Oprah Winfrey Show, The O'Reilly Factor and PBS Frontline. Irwin also serves as President of Clal, The National Jewish Center for Learning and Leadership, a leadership training institute, think tank and resource center in New York City.
Recommended Posts
December 02, 2022
November 22, 2022
November 16, 2022