---
How My Toothbrush Transformed My Life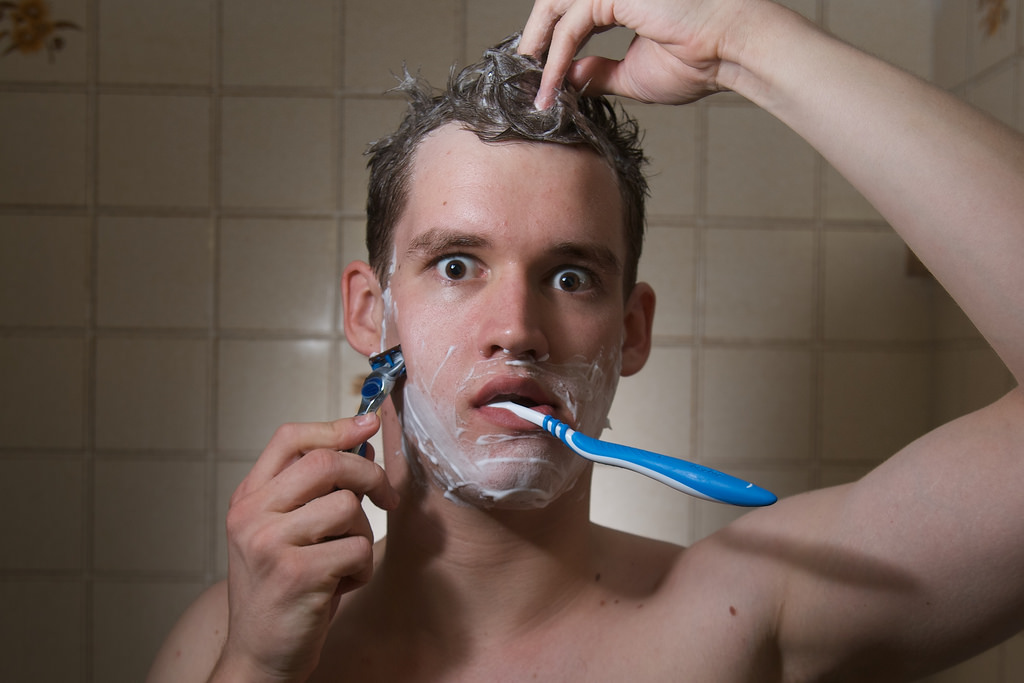 My alarm goes off at 6:15 in the morning and almost immediately I begin to think about the things I have to get done in the new day that is just beginning. I check my phone and see a text from someone I was supposed to have a breakfast meeting with at 8:00. The text asks me if it is okay if we push our meeting to 8:15. I respond back: "Yes!"  The extra 15 minutes will come in handy as I completely forgot about the meeting.
As I begin to think about what else I have forgotten, I hear the rumble of the trash trucks. The garbage! I forgot to put the trash out. I run to the garage, grab the overflowing bags of trash and make it to the curb just in time to hand them to my garbage man!
By the time I come back into the house, my wife and kids are all busy getting ready for their day. My son needs my help to do a final review for a big test. My daughter can't find her computer charger and sends me looking for it. My wife and I try to find a minute or two to review our schedules and determine which one of us is picking up our kids from school and which one of us is running to the grocery store and meeting the plumber at the house at 2:30 in the afternoon. I am feeling stressed and I have only been awake for 15 minutes. My day is off to the usual start.
I know that stress so early in my day isn't good for me. When the frenetic energy of my early morning routine pushes my buttons before 6:30 in the morning, the real intense stuff I'll face at work in a few hours will have the potential to put my mind, body and soul into overload and the results won't be good.
I know that good habits like taking time to slow down, catch my breath and pay attention to what I am thinking and feeling form the foundation of a happy, meaningful, stress free life. But, the fact is, good habits like these just aren't a normal part of my early morning ritual. The experts say we can embrace healthier habits that can overpower and replace the unhealthy routines that fill our lives with stress.
I have tried to find ways to slow myself down in the morning and begin my day feeling refreshed and recharged. I have tried prayer, but there is simply too much going on in my house to carve out spiritual time. I have tried meditation, but, again, the energy level in the house makes it impossible to focus. I don't have time to exercise in the morning. I have tried waking up earlier so that I can go for a run or take advantage of some quite time to pray or meditate – but honestly, I like and need my sleep too much. And so, I have found myself getting into the very unhealthy habit of beginning my day feeling scattered and frenzied.
But, just recently, I purchased an electronic toothbrush – the kind your dentist encourages you to buy – the kind you think costs way too much. At the risk of sounding overly dramatic, this toothbrush changed my life. I am not certain if it has improved my dental hygiene – I haven't been to the dentist since I purchased it. I am certain, however, that it has taught me how to slow down in the morning, be mindful of how I am feeling and organize the many thoughts in my head.
My new toothbrush contains a built in timer that automatically shuts the thing off after two minutes of brushing. My dentist encouraged me to take advantage of the timer and brush for for the full two minutes in the morning and the evening. Apparently, this is the amount of time most dentists recommend that we spend brushing our teeth. So, I gave it a shot.
Now, two minutes might not seem like a lot of time – but when you are rushing around in the morning trying to get ready for a busy day, two minutes feels like an eternity. If you promise not to tell my dentist, I admit that the first week or so after buying my fancy toothbrush, I didn't have the patience to brush for two minutes. I am not even certain I brushed for a minute. I brushed, however, because brushing my teeth is a habit that has been part of my daily routine for as long as I can remember.
One hectic morning, I started brushing and began to think about the many things I had to accomplish in my day. I guess I got lost in my thoughts and the next thing I knew the toothbrush shut off. At first I thought it was broken, but I quickly realized I had made it to the two-minute mark! And I also realized that in those two minutes, I had somehow mapped out my day in a way that made me feel super organized and on top of my game.
From that moment on, every time I brush my teeth, I push myself to take those two minutes to be aware of what I am thinking and feeling and process whatever it is I need to process. Sure, sometimes I am feeling too rushed to wait the two minutes. But, most of the time, the two minutes is a time to check in within myself and just think. With the help of my electronic toothbrush, I have managed to turn the healthy habit of brushing my teeth and into meditative time for me.
Interestingly, leading experts in the positive psychology world teach that two minutes is the perfect amount of time to spend catching your breath, focusing on your feelings and creating a mindset that will make you happier. Shawn Achor, author of The Happiness Advantage and founder of GoodThink, says that using the time you spend brushing your teeth to check in on yourself "can not only boost your happiness but help you make that choice over and over again" because doing so becomes a natural, simple part of your morning and evening routine.
While I trust my dentist, I must admit that two minutes feels like a really long time to spend brushing my teeth. This being said, given what these two minutes give me, I am not complaining. My fancy toothbrush was worth every penny I spent on it!
Recommended Posts
September 20, 2022
September 14, 2022
September 09, 2022