Need a change of pace for your book club, or a unique gift for a friend? Go to your favorite book seller and immediately buy The Well of Being, subtitled "a children's book for adults." I honestly felt privileged reading this beautiful, artistic, profound, provocative and absolutely one-of-a-kind story.
I don't know what to compare this book to, in order to adequately describe how powerfully and wisely this magnificent story affects the reader, by speaking straight to the heart.
Be prepared to go on an enchanted journey through the landscape of your psyche.
The inspired Baltimore-based artist and writer Jean-Pierre Weill mixes luscious and whimsical watercolor illustrations with a mystical tale of self-discovery and coming home. The point of view is humorous, poignant and insightful. From the pages of The Well of Being:
"I don't say there isn't much work to do, for there is.
And some tracks lead to excruciating darkness, where a person can tumble from the sky on a clear September morning.
Yet is the world not whole? Is it not beautiful?
For now, let's consider well-being a choice, something you can try on and wear. When we put on the hat and coat of well-being we incline towards joy without special occasion."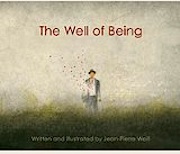 If you've ever deferred the present moment for a future that hasn't arrived, if you've ever felt that circumstances were dictating your life, if you've ever waited for something to happen before you could fully live your life, if you ever thought you needed to be someone different than who you are, Weill's book will compel you with gentleness and purity to step into life more fully.
But this isn't some new-age book. This is for fearless seekers of truth, for people who want to live fully present in whatever is happening, for readers who want to embrace the drama of life in all its beauty and ugliness, pain and pleasure, joy and sadness, loss and gain. Be prepared to go on an enchanted journey through the landscape of your psyche to the "well of being" from which we all unfold.
I will never forget the experience of reading The Well of Being, and now, simply seeing the cover on my coffee table fills me with wonder, hope, joy and understanding. May it have a similar effect on you!

Irwin Kula is the co-founder and co-executive editor of The Wisdom Daily. A rabbi, Irwin's writing has been featured in The Huffington Post and the Washington Post. He is the author of Yearnings: Embracing the Sacred Messiness of Life and a co-editor of The Book of Jewish Sacred Practices. Irwin has appeared on NBC's The Today Show, The Oprah Winfrey Show, The O'Reilly Factor and PBS Frontline. Irwin also serves as President Emeritus of Clal, The National Jewish Center for Learning and Leadership, a leadership training institute, think tank and resource center in New York City.