---
Kosher Food Gains Popularity… in Indonesia?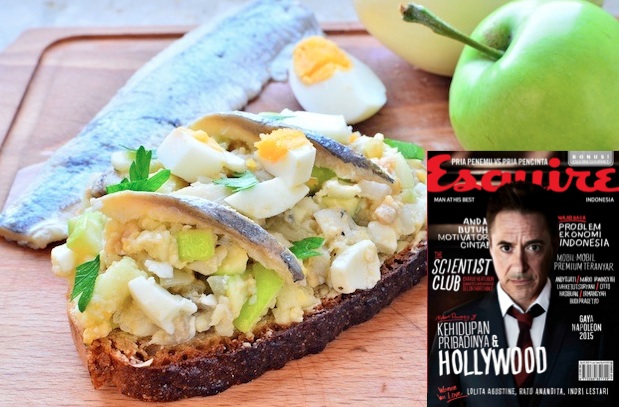 I am sure that I'm not the first rabbi to be quoted in Esquire magazine. But I'm sure I'm the first one quoted in the Indonesian edition! How do I know? The editor made it very clear, when we spoke!
You may wonder how a rabbi ended up contributing to this very popular publication, in the nation more Muslims call home than any other county in the world — a nation in which Judaism is not even among the five legally recognized religions. (Those five, by the way, are: Catholicism, Protestant Christianity, Hinduism, Buddhism and of course, Islam.)
Sem Purba, Esquire Indonesia editor, contacted me because the magazine was issuing a special edition about food and food trends, including a look at the growing popularity of kosher food among Indonesians.
He didn't know that I was interested in food trends myself; he just needed a "Jewish expert" who might be familiar with Indonesia, and he recalled news coverage of my visit there a few years ago. He valued my insights, right from our first email exchange.
What emerged was a lengthy article exploring both kosher and halal traditions from the perspective of practices which can bring personal meaning and ethical value to how (and what) we eat. I would share the article here, but unless you understand Indonesian, it wouldn't help!
Of course, what makes the whole thing so fascinating to me is the question, Why this trend?
What would make Esquire Indonesia readers curious about the intriguing rise of kashrut in their homeland? Indeed, that question was essentially the first thing Sem asked me: "Why did I think kosher food was increasingly interesting to so many Indonesians?"
Whether overtly stated or not, embracing kosher food as an alternative to halal marks the trust which can exist across faith boundaries.
My answer was that choosing kosher may well be gaining in popularity there because of Indonesia's role as both a leader in globalization, and as the world's most populated Muslim nation. Sampling kosher cuisine honors both of those phenomena equally.
How? Food deemed to be kosher will also be deemed to be halal, certainly for all Sunnis, and for most Shi'i. At the same time, food certified as kosher (a Hebrew word which literally means "fit") brings the eater into contact with a global market of Jewish consumers and others interested in abiding by traditions outlined by the Hebrew Bible (the Old Testament), and its later legal commentaries.
I believe the appeal among Indonesians of ordering kosher – the trend was first spotted in the rise of kosher meals being requested on airplanes, even when halal was available – lies in the fact that it allows Muslims to take a culinary "walk on the wild side" without violating any sacred norms or well-regarded cultural traditions. In a world that often insists we choose between safeguarding the past and embracing the future, this trend offers a pretty cool alternative.
And whether overtly stated or not, embracing kosher food as an alternative to halal marks the trust which can exist across faith boundaries, even as members of those communities are deeply divided when it comes to many other issues. It demonstrates that disagreement can be just that — something about which people disagree, not an excuse for claiming that those with whom we disagree are inherently unethical or immoral (as so often occurs in debates about religious and political difference).
So, thanks to Esquire Indonesia, to the special edition of Esquire Gourmet, and to Sem. You've opened a conversation which I hope continues in the future, not only because it was so much fun to explore, but because it highlights an accessible approach to crossing cultural divides – an approach which the whole world needs, rather urgently, these days.
Recommended Posts
January 21, 2022
January 20, 2022
January 14, 2022