---
We Read Torah Differently in Israel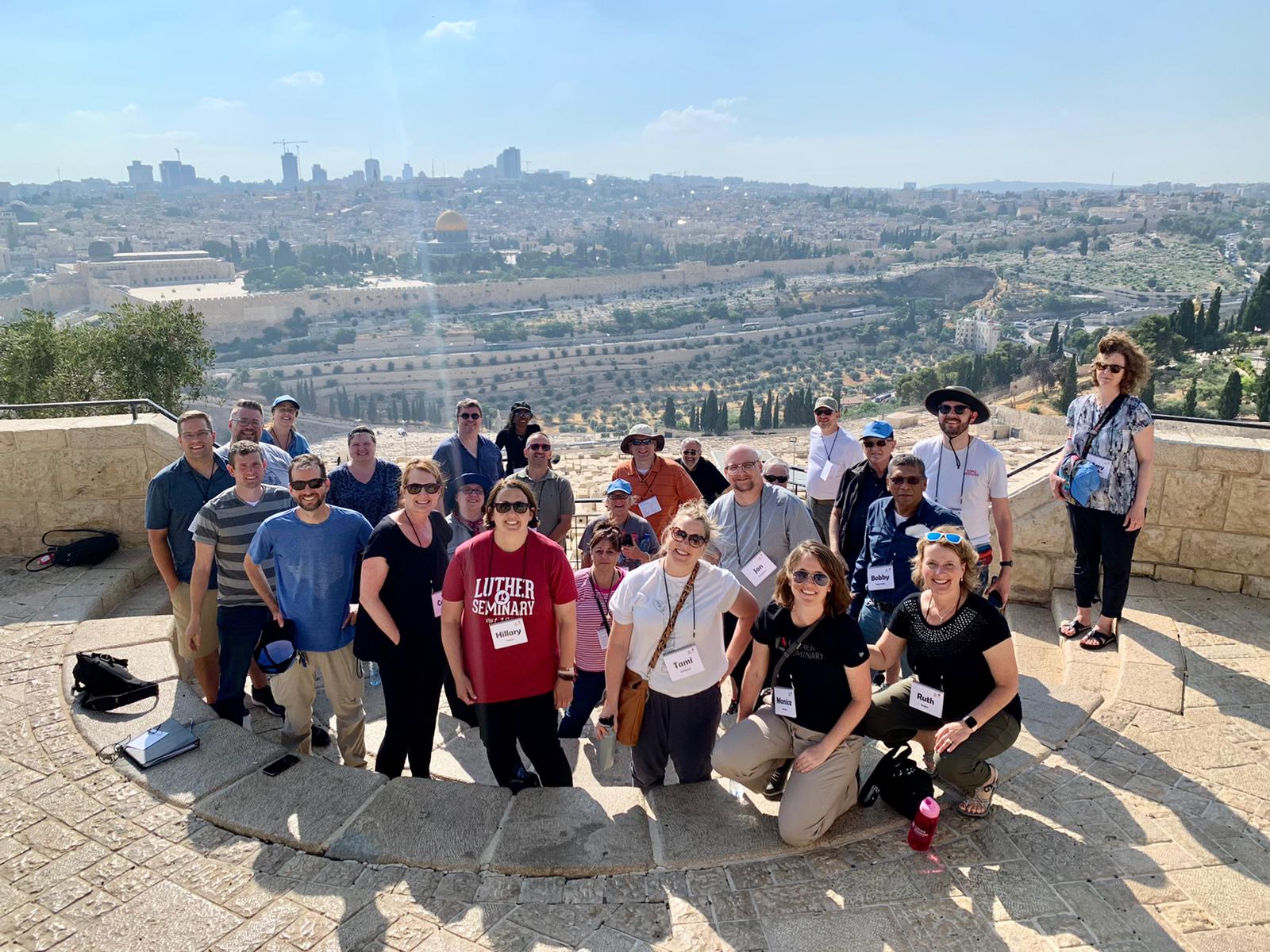 Over 10 days, spanning this week and next, Rabbi Brad Hirschfield, Pastor Brian Maguire, and I will journey with pastors and Christian leaders across the Holy Land. It is known as the Stand and See Fellowship and is poised to transform the ways in which religious leaders love the land and all of the people who inhabit it. This trip is our largest national trip, with 25 participants from across Christian denominations and 4 guides. Those taking part in it have already left us in awe of their wisdom and knowledge.
Sitting together on the Mount of Olives in Jerusalem on our first afternoon together, we looked out at Mount Zion and Mount Moriah and traced the steps of our histories. What brought us to this place, this point in time? In whose footsteps were we walking? What was our purpose?
Pastor after pastor, leader after leader affirmed that they wanted to know for themselves the context of the Bible and the land that they had abstractly called Holy. Many had preached it; few had seen it for themselves. We began to marvel together at how the Christian Bible and Torah come alive when we walked through sacred places and passages and linked words with ideas that transcended parchment or page. We literally stood and saw.
In the days since our group has gone to Bethlehem to see the Church of the Nativity; across Jerusalem and up to the Temple Mount; to the City of David, and the Church of All Nations. Next week, we will venture north to the Galilee, in order to meet with Palestinian-Israeli Christians, see Nazareth, behold the bounty of the vineyard and spiritual cleansing of the mikveh at Kibbutz Hanaton, and explore the "Evangelical Triangle," where early Christians turned outwards and began to gain followers.
10 days will give us just enough time to see some of the essential sights for Christian leaders in the Holy Land. But none of us – including the three group leaders who have been to Israel repeatedly – will return unchanged. We will all come away enthused about exploring more deeply in the future and affirmed that text and context are essential partners.
We also anticipate that this experience will help transform a rising generation of religious leaders. If Israel can become a center for studying and learning about holy complexity, they can return with newfound abilities to navigate the crosscurrents of religion and political polarization with greater nuance and compassion. So, too, can they continue forward in seeking out Jewish partners in dialogue and collaboration, understanding that our stories are intertwined not only in narrative but also in place.
Fittingly, this Shabbat, we will venture to the south towards Mount Masada, the Dead Sea, the Caves of Qumran, and holy sites along the Jordan River. The final sentence of this week's Torah portion (Numbers 22:1, from Parshat Chukat, which spans Numbers 19:1 – 22:1) will read very differently: "The Israelites then marched on and encamped in the steppes of Moab, across the Jordan from Jericho."
We will see the kind of land on which they marched – its barren hillsides and scorching heat. We will imagine how fierce battles would have transpired. We will understand the topography of tribal groupings past and communal groupings present. We will comprehend more fully the Israelites' desperation for water, both literal and spiritual, amid such difficult terrain for walking. We will see how close they came to Homeland – and why a new generation always holds the hope of arrival. How fitting to see such an ancient land with a new generation of Pastors, who hold such hope for our country and the good that they can do for it.
Recommended Posts
March 30, 2023