For years I looked everywhere but synagogue for spiritual fulfillment.  I found the "stuff" associated with it–politics, egos, et al–to be a turn-off.  Services seemed rote and uninspiring. A solitary walk on a serene, lakeside path fed my soul and brought me close to God.  Who needed a synagogue? When I decided to try a new (to me) shul last spring for Yizkor, it was driven more by obligation than enthusiasm.  I never imagined being pulled back to the sanctuary like a weary traveler returning home from a long journey.
I'd never been to the exhaustively named Moses Montefiore Anshe Emunah/Greengate Jewish Center in the Pikesville section of Baltimore.  And I'd never heard a poem read at an Orthodox Yizkor service. The poem, Do Not Stand on My Grave and Weep, was written in 1932 by Mary Elizabeth Frye to console a young Jewish houseguest who had fled Germany and was lamenting the recent passing of her mother there. It was perhaps the most beautifully affecting work I'd ever encountered, speaking to our eternal essence and unity with our Creator. It gave me pause to reflect, not only on the loss of my loved ones, but also on my own mortality and legacy.  What kind of remarkable synagogue was this, I wondered, that incorporated this poem into its service?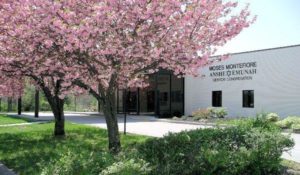 I grew up attending a remarkable synagogue. Many of the congregants at B'nai David in Southfield, Michigan were Holocaust survivors, as my parents were. They clung to tradition, while navigating the demands of their new American environments.  B'nai David struck a delicate balance: There was no mechitza, but it affiliated as Orthodox.  Many drove to shul; others walked.  However they arrived, the seats were filled every Shabbat and the prayer was boisterous.
Rabbi Hayem Halevy Donin, author of To Be a Jew, was the pulpit rabbi until he made aliyah in 1973. He also co-founded the modern Orthodox day school I would later graduate from, Akiva.  Like B'nai David, our family life struck a delicate balance. We were not strictly Orthodox, but tradition was paramount.  My father's cheder, family, and community in Poland had been destroyed, and he struggled with observance, even as he clung to faith. My mother had been saved and raised by a Catholic couple, reconnecting with the Jewish community in her early 20s.  They both saw Akiva as a rock, a foundation, upon which I could build my own religious/spiritual path.
I headed east after graduation, living in New York, Washington, D.C., and now Baltimore.  I sought out but could not find a B'nai David-like experience. There were purpose-driven periods of attendance and membership:  A minyan in Washington that attracted single young professionals and, after marriage and children, a move to the nearby suburbs, where I joined several synagogues primarily for their school programs.  But none of these fed my soul.
While visiting a prominent D.C. area synagogue for a friend's simcha, I expressed my frustration at not finding a spiritual home.  "Find spirituality on your own," a congregant advised. "Synagogue is a place to socialize and network." Without consciously following his pithy advice, I did just that.
I attended Moses Montefiore several times after the Yizkor experience. Founded in 1952, the synagogue has undergone many moves, mergers, and, yes, name extensions. Today, the shul can best be described as a liberal, or more "open" version of Modern Orthodoxy– allowing for greater opportunity for female participation and a more nurturing, as opposed to judgmental disposition towards congregants' religious paths.  So-called "Open-Orthodoxy" is a hotly debated development in Orthodox circles, and a controversial label.
I was much more interested in spiritual experience than I was in any labels. There was a palpably warm vibe that permeated the shul. Its outgoing, kinetic president, Jeff Forman, instantly made me feel welcome. To my surprise, it wasn't a one-time wonder.  He seemed to be regularly checking the pulse of every congregant and crevice of the building.
Rabbi Yerachmiel Shapiro has served Moses Montefiore since 2010.   His tall muscular build once served him well as a high school football star in his native Chicago. As he's noted during his sermons, he did not grow up Orthodox and reckoned with his life path before choosing to study in Israel and seek rabbinical ordination.  His willingness to bare his soul at the pulpit–to share his own fears, failures, anger and doubts– resonated with me. His sermons inspired more than they preached.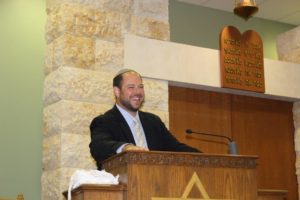 I joined the synagogue just before the High Holidays and as a new member was given complementary seats, albeit in an "auxiliary" section behind the main sanctuary to accommodate the usual overflow of congregants.
Yet, any notion that those seated in this section were 'auxiliary' was quickly dispelled as the Shofar blowing sequence progressed. Rabbi Shapiro descended from the bima, moving deeper into the congregation with each series of blasts.  He happened to stop right beside my mother for the final Tekiyah Gedolah.  "I felt God's presence then," she later told me.  "As powerfully as I'd ever felt it." It was a moment, I suspect, that will linger like a Mary Elizabeth Frye poem.
I am now a regular Shabbat attendee, moved and elevated by a chazzan and choir that somehow infuse fresh spirit into ancient melodies; by an ebullient Torah procession; by a Rabbi Shapiro sermon that can be as lofty as a Midrash on Abraham or as local as trouble in Baltimore; and by a gathering of children onto the bima for Ein Keloheinu under a tallit canopy.  I feel shivers down my spine, absorbing my link to our tradition like threads on a tallit.
I know that I was not alone in personalizing my religious practice outside the synagogue. Outside of Orthodoxy, a majority of American Jews are finding a variety of paths to express their Judaism, with some preferring not to express it at all.  As a result, many houses of worship are struggling for survival while others are seeking ways to stay relevant.
It's unfortunate.  Synagogues are not perfect. And tradition is not perfect.  I've had and continue to have gripes with both. But Moses Montefiore was there when I was ready to engage with it.  Like my alma mater, Akiva, it's a rock, a foundation, upon which future generations can build as they choose.
On Saturday mornings these days, I still go for my lakeside walks.  And then I head to synagogue. It turns out I can get spiritual fulfillment doing both.
#     #     #
Do Not Stand At My Grave And Weep
by Mary Elizabeth Frye
Do not stand at my grave and weep
I am not there; I do not sleep.
I am a thousand winds that blow,
I am the diamond glints on snow,
I am the sun on ripened grain,
I am the gentle autumn rain.
When you awaken in the morning's hush
I am the swift uplifting rush
Of quiet birds in circled flight.
I am the soft stars that shine at night.
Do not stand at my grave and cry,
I am not there; I did not die.